Dec 15th: Music Bingo and Ugly Christmas Sweater Party! SOLD OUT!
December 15 - 6:30 pm - 8:30 pm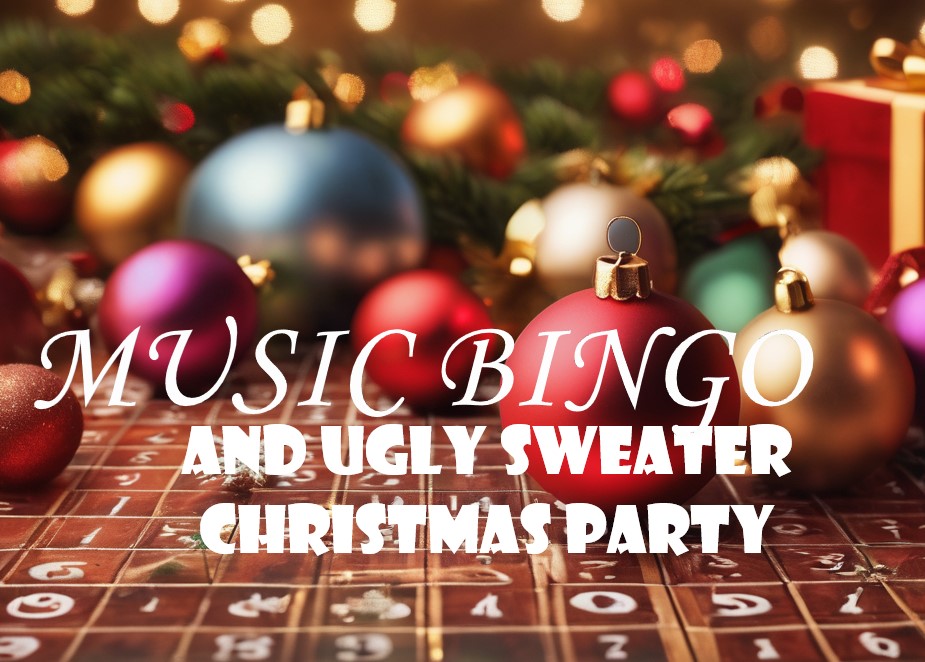 ***THIS EVENT IS SOLD OUT!****
🎶 Join us for a festive evening of Music Bingo and Ugly Christmas Sweaters! 🎄
📅 Date: December 15, 2023
🕕 Time: 6:30 PM – 8:30 PM
Get ready to jingle all the way at our jolly holiday party, filled with music, games, and holiday cheer. Don your ugliest Christmas sweater, and let's make this night one to remember!
🎁 **Event Details** 🎁
– 💰 Cost: $15/person (plus tax) – This is a pre-paid event, and tickets are NON-refundable.
– 🍷 Includes: 1 glass of wine of your choice, 2 hours of music bingo (with fantastic prizes), and a personal cheese, cracker, and sausage plate.
– 🏆 Prize for the "Best Ugly Christmas Sweater" – so bring your A-game in the fashion department!
🍷 **Bar Specials** 🍷
– 🍷 Wine by the flight, bottle, or by the glass
– 🍷 Delicious mulled wines to warm your spirits
🍽️ **Kitchen Menu** 🍽️
– Our standard menu will be available if you're in the mood for more than just cheese and crackers.
🎵 **Music Bingo** 🎵
Get your bingo cards ready for a night of musical fun! Win cool prizes while enjoying your favorite tunes.
⚠️ **Important Information** ⚠️
– 🚫 NO more than 6 guests per table.
– If you need to be seated with someone not in this order, you MUST put that information in the notes section when booking your tickets. Please note that this does NOT guarantee them seating if there are no available tickets left. We will NOT move tables/seats at the event if you do not list your seating preferences in this order.
– You MUST be 21 yrs or older to attend, NO exceptions!
– 🚫 Do not purchase tickets from third-party sellers, as those are scams and will not be honored.
For more information or to reserve your spot, please click on the link or call the Winery during regular business hours and speak to a staff member. We will not accept reservations via email, voice mail or pm.
This is a night you won't want to miss! Let's make this holiday season extra special with music, wine, and the ugliest sweaters imaginable. See you there!
#UglySweaterParty #MusicBingo #HolidayCheers